Adorable & fired up: Paul Ryan's 7-year-old son takes stage at Ohio rally
http://twitter.com/#!/ZekeJMiller/status/264747294405033987
Too cute. Paul Ryan's youngest son, seven-year-old Sam, took the stage at a rally in Marietta, Ohio, this morning to fire up the crowd.
Starting them early: As Ryan works the ropeline, his three young kids jump on stage, hold up a Romney/Ryan sign
— Trip Gabriel (@tripgabriel) November 3, 2012
.@paulryanvp's youngest, Sam at the podium! #RomneyRyan2012 twitpic.com/b9zvm6
— Romney Road Team (@RomneyRoadTeam) November 3, 2012
A glimpse of the future, perhaps?
In Marietta, Ohio, 7-year-old Sam Ryan mugging for the crowd, flashing victory signs. Ryan 2052?
— Sam Jacobs (@sampjacobs) November 3, 2012
Update:
Sam's proud dad tweets another pic:
My youngest son Sam keeping the momentum going. Let's get this done! twitter.com/PaulRyanVP/sta…
— Paul Ryan (@PaulRyanVP) November 3, 2012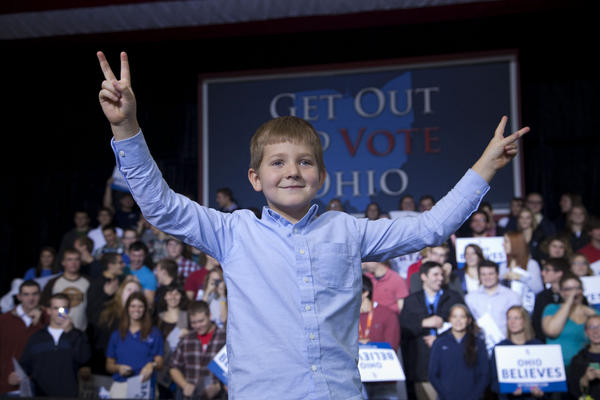 Read more: http://twitchy.com/2012/11/03/adorable-and-fired-up-paul-ryans-7-year-old-son-takes-the-podium-at-ohio-rally/